3 Tips For Contacting A Cleaning Service For Your Summer Parties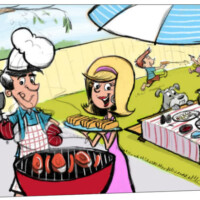 Looking for cleaning services in Grand Rapids, MI is probably not on your list of things to do for the summer.  School has ended for the year, graduations, birthday parties, and vacations have consumed your time.  Summer is the time to catch up with friends and family. Sometimes there can be no better way than to invite them over for a classic summer gathering.  Planning parties also means getting your house clean and presentable.  Adding one more item to the stress of entertaining.
Less Mess with Jess is here to help you focus on the enjoyable parts of hosting a party.   Hiring a professional cleaning service can ease the stress and take care of the house cleaning for you.  With a huge list of items to get prepared like food and decorations, you can have a helping hand taking care of all your cleaning details.  Bathrooms, kitchens, and living rooms will sparkle as your guests make their way through your house.  If you have never hired a cleaning service in Grand Rapids, MI to assist you with preparing for a home party here are a few tips.
Give the Cleaning Service Some Time and Call Ahead Of Time
While most cleaning companies can accommodate short notice, some can't.  If you are looking for just any company to help, you may be able to get away with a day or two notice.  However, if you wanted to call a few different companies, or you like to use locally owned cleaning services, it is better to call a week ahead.  Either way, you should be comfortable with your selection and know that they have you on their schedule.
Know What Areas You Want The Cleaning Company To Handle
When you talk to the Grand Rapids house cleaning company, have a good idea of what areas you want cleaned. Are you looking to have a full house clean? Are the guests going to make their way into all parts of the home?  If you are having a party mostly outside, then you may be able to get away with just cleaning the main floor, including the kitchen, bathrooms and living room. If you're on a tight budget this is a great option to keep cost down. Otherwise, it may be nice to get a full house cleaning while they are there! Knowing exactly what areas of your house you want cleaned will help the cleaning company provide you an estimate on time and costs.  Keep in mind most companies are happy to provide you a rough estimate of what the service will cost over the phone.  But depending on the circumstances they may want to meet you and see the home for themselves.   No one likes to be surprised by a cleaning bill.
Have a plan for the day
When the day of the party arrives there are always a million 'last minute' items to finish.  Having a cleaning service over before the party begins is meant to help, not add more stress. If they don't know already, fill them in on what you have planned.  What time are guests coming over, where would you like them to start, and what time do they need to be done by.  Having a plan is the best way the company can get right to work.  With a ton of 'last minutes' items, you don't want to work against each other. It seems obvious, but make sure the cleaners are cleaning up after you are done in an area and not before.
As the summer months wear on and the dog days of summer continue, spend your time relaxing and less time cleaning.  Less Mess With Jess can take the cleaning burden off your shoulders.  Have a great summer!