How To Clean A Kitchen In Under 35 Minutes
The kitchen is often the most used room in the house as well as the creative focus for so many projects – from new meals in the oven to new crafts spread out on the table. However, it is hard to feel inspired when you are surrounded by dirty dishes, loose papers and sticky counters. Fortunately, you don't have to spend all day cleaning to get your kitchen in tip top shape. In about a half hour, most moderately messy kitchens can be put right.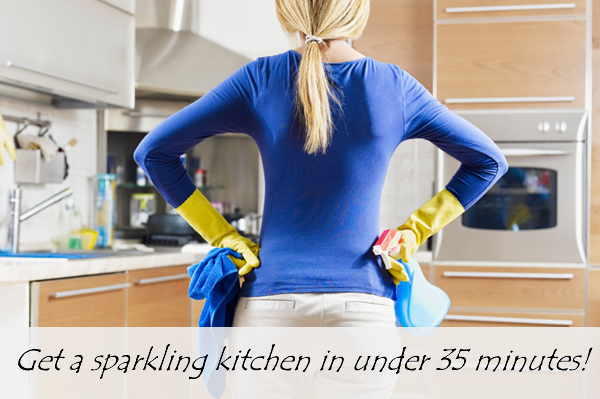 Use this cleaning guide for those days when you are feeling overwhelmed and don't know where to start. It is also a great routine to put into action when you discover unexpected company may be on the way.However, as with most things in life, 'your mileage may vary.' In other words, your actual cleaning time will depend on the size of your kitchen and its current level of mess. In addition, if you are hand washing dishes, expect to take a little longer as well. But for most tasks, these times should be accurate if you are cleaning at a moderately brisk pace (read: cleaning with a purpose but not frantically).
So let's get started!
35 minutes to a clean kitchen
2 minutes – Put small appliances in their designated places and return any food to the pantry or fridge. Throw away any trash on the countertops or kitchen table.
10 minutes – Unload and load the dishwasher or hand wash any dirty dishes if you don't have a dishwasher.
2 minutes – If you have a natural gas range, fill the sink with hot soapy water and place stovetop grates in the sink to soak.
1 minute – Spray the stovetop with a cleaning solution. Move on to the next tasks to give time for any baked on grime to loosen.
1 minute – Remove old, out-dated paperwork from the fridge or kitchen bulletin board. (Note: if you have an office area in the kitchen, this is not the time to get bogged down in sorting and organizing that paperwork. That's a project all on its own! If you have company coming, place any stacks in a box or bag and tuck away in a closet for now.)
4 minutes – Pick up anything that doesn't belong in the kitchen and return it to its proper place (i.e. shoes on the floor, coats flung on the chairs, finished crafts on the table).
4 minutes – Wipe down stovetop, countertops, appliance fronts and kitchen table, if you have one.
2 minutes – Remove grates from sink, wash off any remaining grime, rinse and return to stovetop.
3 minutes – Sweep the floor.
1 minute – Take out the garbage and replace with a fresh bag.
5 minutes – Put away any air-dried dishes you hand washed.
Then, light a candle or spray your favorite air freshener and enjoy your clean kitchen…at least until the kids come home or you decide to eat again.